A self portrait is a representation of an artist, drawn, painted, photographed, or sculpted by the artist.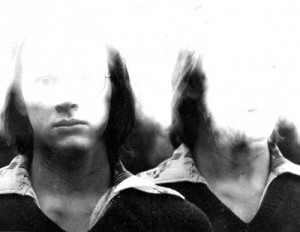 The photograph above was taken with a 35mm Pentax SLR in 1974 and manipulated in the darkroom in Stourbridge College of Art and Design. This reminds me of the simple pleasures I had messing about with making images – it is a shame I have become cynical.
Although self-portraits have been made by artists since the earliest times, it is not until the Early Renaissance in the mid 15th century that artists can be often identified depicting themselves as either the main subject, or as important characters in their work.
In many respects the image below follows in the tradition of those early painters – I am seen as a reflection, just visible and confined within the architectural composition, a modern conceit of self-importance.
In the famous Arnolfini Portrait (1434) Jan van Eyck is probably one of two figures glimpsed in a mirror. This painting may have inspired Diego Velázquez to depict himself in full view as the painter creating Las Meninas (1656). The placing of a self depiction within a larger composition of the rich, the famous and the kingly is a way of elevating your role from craftsman to celebrity – nothing changes really.
This image was taken in Lanzarote in August 2012 using a Pentax P30, 35mm film camera, which uses manual focus lenses with the K-mount bayonet fitting. The lens used to take this photograph was a Rikenon 1:2 50mm, which was originally off a Richo KR-10 (super). At about 510 grams, the camera is easy to carry and handle and has shutter speeds from 1/1000 of a second to 1 second. The automatic mode on this film camera chooses the best shutter speed and aperture setting, giving the novice photographer a better chance of taking a good photograph. It also has a semi-automatic mode as well, which chooses most of the settings but allows for more creativity. There is also a totally manual setting for the brave.
The film used was Fujicolor C200, a budget-priced film (expire date April 2014) processed by Jessops in Barnstaple. The negatives were scanned using an Ion Pics 2 SD.
Using old film stock in a Pentax P30
Expat web design services – Lanzarote
Are you an English-speaking web site owner or a Spanish-speaking business who requires a website written and optimised for UK clients? …
Related articles